In protective gloves, the material and coatings are of paramount importance. These determine the protective functions, use and comfort. The cut protection level of a work glove, for example, or how abrasion-resistant and thus robust and durable it is are properties that are achieved through different materials and coatings as well as their combination and the corresponding process technologies. Our expertise is characterized by traditional inventive spirit and know-how about state-of-the-art technologies. For example, we were able to realize our own development NIRO-S tec, and now it occupies with its properties a true top position in the wide range of work gloves. In the following, we briefly present this innovation from our company and provide an overview of the other coatings used in our gloves.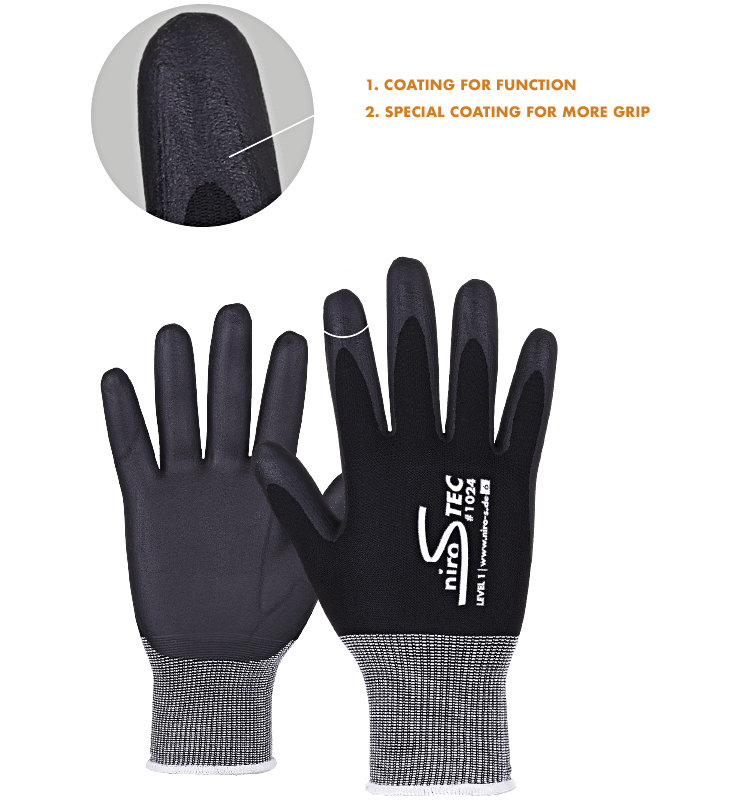 The NIRO-S tec-coating is currently one of the most innovative and high-performance glove coatings. In several comparative tests, the NIRO-S tec coating was able to prove its superiority. The NIRO-S tec coating is a double-dipped coating based on nitrile foam and is probably the thinnest coating available on the market.
NIRO-S TEC IN DETAIL
Double-dipped nitrile foam-based coating
Ultra-thin
Oil-repellent
The significantly reduced coating cross-section enables gloves with extremely good touch sensitivity
The significantly thinner NIRO-S tec gloves have a truly exceptional fit
The double-dipped coating makes NIRO-S tec gloves abrasion-resistant and extremely durable
NIRO-S tec gloves are currently available in four variants
OVERVIEW OF MATERIALS AND COATINGS
POLYURETHANE (PU)
Polyurethane (PU) coatings are particularly sensitive, very elastic and adapt to the movements of the hand. The microporous coating is permeable to air and ensures that the glove is ventilated. PU does not react to cold or heat, so the glove always adapts to the hand. PU is hard-wearing and durable.
> Hier finden Sie unsere Polyurethan-Handschuhe
LATEX
Latex coatings are characterized by a very high flexibility. They are very resistant to mechanical impact. The soft, elastic coatings are robust, insensitive to water, resistant to oils. Latex provides a very good grip even on damp or wet surfaces.
> Hier finden Sie unsere Latex-Handschuhe
LATEX FOAM
Latex foam coatings are highly elastic. Latex foam provides an excellent grip in both dry and wet environments. The microporous structure makes the glove soft and ensures a good fit. Latex foam is also extremely abrasion resistant.
NITRILE
Nitrile coatings are mechanically durable, highly abrasion resistant and impervious to liquids. As a coating, nitrile is ideal for protecting the hand from chemicals, solvents, oils and greases. Nitrile coatings are also very durable, have high resistance and are very elastic in handling.
> Hier finden Sie unsere Nitril-Handschuhe
NITRILE FOAM
Nitrile foam coatings are particularly non-slip in damp environments or on slightly oily surfaces. Nitrile foam coatings are soft, give mobility and very good tactile sensitivity. The open-pored structure conducts heat and moisture to the outside and is very abrasion-resistant.
> Hier finden Sie unsere Nitrilschaum-Handschuhe
NFT NITRILE FOAM
NFT (New Foam Technology) coatings are characterized by their lightness, good breathability and high flexibility. The microporous structure allows heat to be transported to the outside and reduces sweating inside the glove.
MICRO NITRILE FOAM
Micro nitrile foam coatings can be dipped extremely thin. The characteristic properties of nitrile foam – high breathability, good grip – are retained. Fit and wearing comfort are significantly improved.